Salesforce gives you a 360 degree view of your customers and insight into your own business.
If you've been running your business from multiple systems, it's likely that your customer data lives in different places. You might have data in emails, spreadsheets, various databases, or point solutions. Multiple systems are a barrier to understanding your data and getting a complete picture of your customers. With your data in Salesforce, you have a single source of truth and a single point of engagement.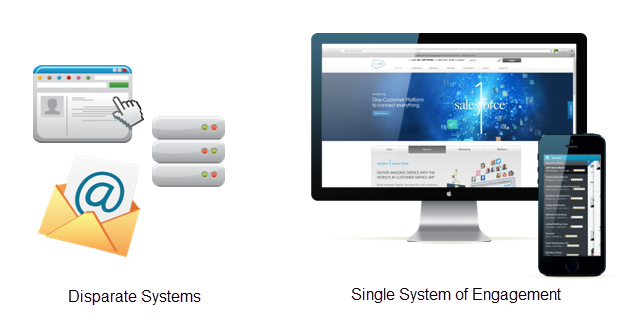 Salesforce technology is a game-changer. It's a single place to create, view, and update your customer data from anywhere on any device to drive lasting engagement with your customers.
You don't have to install software to access Salesforce. You just need an internet connection and a Web browser.
What Is Salesforce?
Salesforce is your customer success platform, designed to help you sell, service, market, analyze, and connect with your customers.
Salesforce has everything you need to run your business from anywhere. Using standard products and features, you can manage relationships with prospects and customers, collaborate and engage with employees and partners, and store your data securely in the cloud.
But standard products and features are only the beginning. Our platform allows you to customize and personalize the experience for your customers, partners, and employees and easily extend beyond out of the box functionality.
So where does CRM fit in to all of this? Let's start by defining what CRM is.
What Is CRM?
CRM stands for Customer Relationship Management. This technology allows you to manage relationships with your customers and prospects and track data related to all of your interactions. It also helps teams collaborate, both internally and externally, gather insights from social media, track important metrics, and communicate via email, phone, social, and other channels.
In Salesforce, all of this information is stored securely in the cloud. Let's take a closer look at how that works, using an example you might be familiar with—a spreadsheet.
How Salesforce Organizes Your Data
Salesforce organizes your data into objects and records. Think of an object as a tab on a spreadsheet, and a record like a single row of data.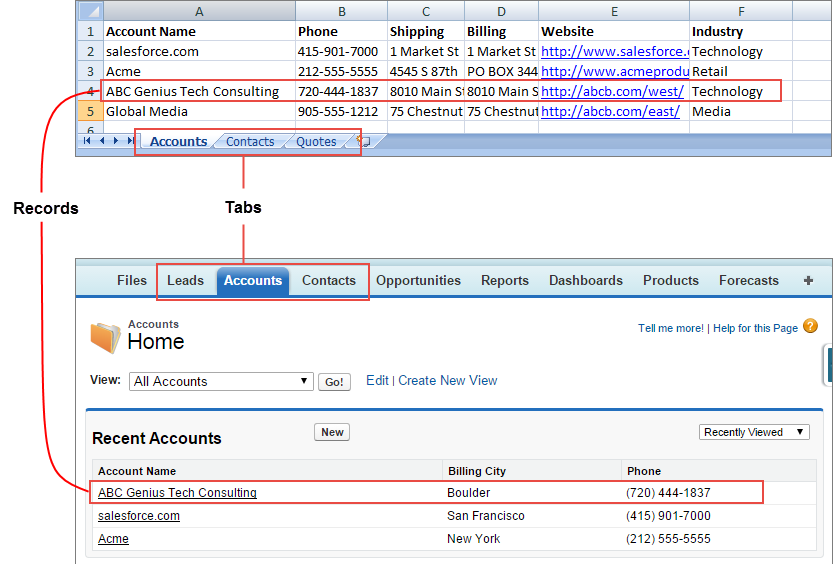 But unlike a traditional spreadsheet, the data is stored in our trusted, secure cloud. Our easy-to-use interface lets you access it from your desktop and mobile device. You can easily import your data into Salesforce using point-and-click tools.
Salesforce comes with standard objects already set up and ready for use.
Here are some of the core standard objects, and a description of how each one is used. We'll dive into these objects in greater detail as you work toward your badge for this module.
ObjectDescriptionAccountsCompanies you're doing business with. You can also do business with individual people, like solo contractors, using Person Accounts. More on that later.ContactsPeople who work at a company you're doing business with (Accounts).LeadsPotential prospects who are not yet ready to buy or you haven't determined what product they need.
You don't have to use Leads, but they can be helpful if you have team selling, or if you have different sales processes for prospects and qualified buyers.
OpportunitiesQualified leads that you've converted. When you convert a lead, you create an Account and Contact along with the Opportunity.
The Salesforce CRM allows you to manage and access your data in sophisticated ways that you could never do with a simple spreadsheet. Your records can be linked together to show how your data is related, so that you can see the whole picture.
‍